NDI
Explore unprecedented possibilities for connectivity, creativity, and control with IP—all while using the network infrastructure you have in place today. NDI
, NewTek's innovative Network Device Interface technology, enables compatible systems, devices, and applications to connect and communicate over IP to share video, audio, and data.

 
Before You Begin

Streamlabs OBS is only able to receive any NDI stream as a source. This means you will need another application that is capable of capturing and sending out an NDI stream on your local network or locally on the same computer. See down below in this guide for guides for creating such an NDI stream!
Install NewTek NDI Redistributable

To get started with NDI streams and sources you'll need to have the NewTek NDI Runtime installed on each computer you use to either send or receive NDI streams on. After installing the redists, be sure to reboot your computer, as this is an important step.

If you are encountering issues receiving an NDI stream with Streamlabs OBS make sure that the application generating the NDI stream is allowed through the firewall and that Streamlabs OBS receiving the NDI stream is also allowed through the firewall and that both connecting computers are on the same private network. See this article how to open the firewall for various applications.
Receive NDI stream with Streamlabs OBS

Once your local network contains one or more NDI streams you can add them as a source in Streamlabs OBS.

1) Click the + icon above the sources to add a new source.
2) Select the NDI Source.
3) In the properties of the NDI source, select which NDI stream you want to receive and display.
Any active and compatible NDI streams on your local network are automatically detected.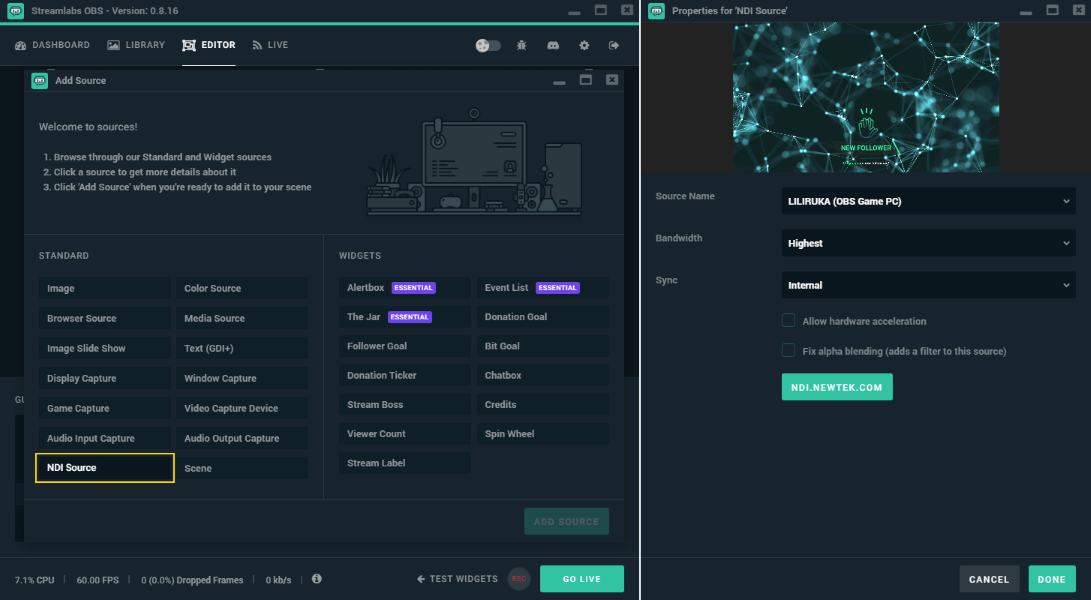 If you do not see NDI Source listed as an available source you have either not installed the NewTek NDI SDK correctly or have rebooted the computer after installing the SDK.
Creating NDI streams to receive

Please refer to the following articles how you can create NDI streams on your local network to receive in Streamlabs OBS!